Who Are We?
Well, it all started back in 1997, with the Broccoli Brothers...
| | |
| --- | --- |
| Over the weekend of Easter (March 28th-31st, 1997) a science fiction convention was held in New Zealand's capital city, Wellington. The convention was called Conspiracy, and it's guests of honour were Danny John-Jules, Pat Cadigan and Chris Chitty. Attending this convention were around 200 science fiction fans from around New Zealand (plus several strays that visited from Australia, New Zealand's west island). A major party weekend ensued during which most of the people on the right had a tremendously fun and exhausting time. We lived on Chupa Chups, alcoholic beverages, KFC and little sleep. What a weekend! | |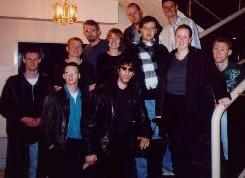 At that event we created the original Broccoli Brothers fan club, which in 1998 became the ConArtiste's. Basically we are a fun, party-on group of people that believe in playing Twister anytime we get bored (or maybe if we just want to disrupt the programme a little), heckling, singing loudly at any opportunity, clapping on cue, drinking, socialising, putting our feet over our heads, and constantly putting our heads above the crowd (so it's more likely to get cut off).
A group of extroverted, outgoing crazies, who enjoy sitting in corridor's chatting or by pools drinking.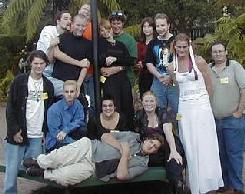 Since 1997 we've also gotten together at the 1998 National Convention, Construction, and at the 1999 Natcon, ConQuest II, then again in 2000 at ConD'or (which was a pretty crappy convention, made bearable by the fantastic presence of the Con Artiste's!). Every time we've made rather a big splash in the otherwise calm pool of New Zealand science fiction fandom.
Check out the rest of the site... and join us at the next NZ science fiction convention... we'll be there... and we won't be hard to spot!!